If you've recently had your lawn replaced with new sod grass, then you're probably wondering what the best maintenance schedule is for it. Having a good maintenance schedule for your new sod will ensure it grows healthy & lush all season long. Luckily for you, the experts at My Landscapers have put together a small cheatsheet from watering schedules to fertilizing.
Watering Schedule for New Sod Grass
As we've stated in a previous article, a proper watering schedule is important for your new lawn. It is important to remember that water needs to reach the soil beneath your new sod grass. How often should you be watering if you've just had your lawn replaced? Check out the infographic below to get all the details.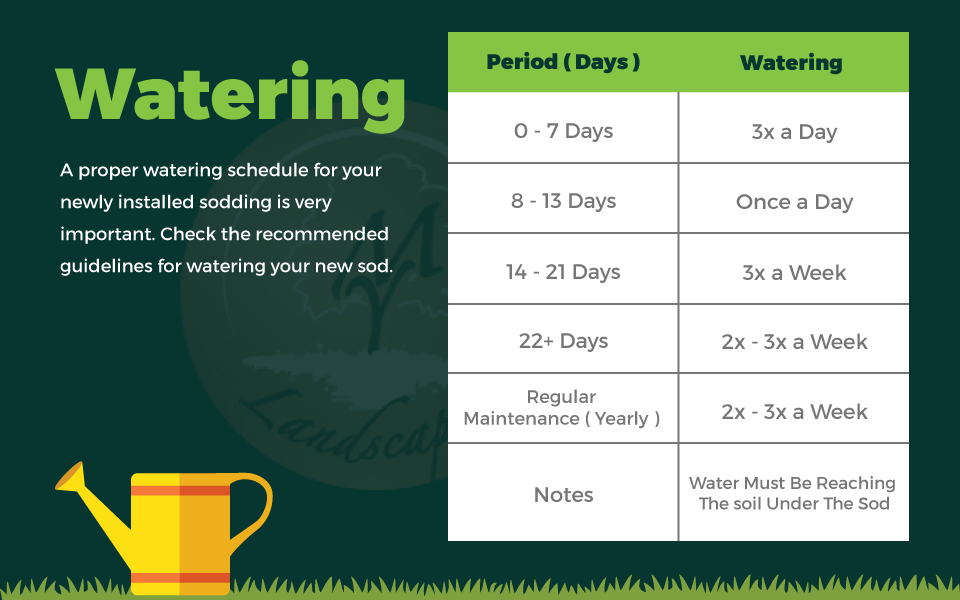 Recommended Reading: Why A Watering Schedule Is Important For Any Lawn Care Plan
Mowing Your New Sod Grass Installation
Ah, the most daunting task of your new sod installation. Most people are left confused when it comes to mowing their new lawn. There are a lot of mixed information and recommendations on the web, but we've put together the most effective mowing schedule for our customers. Feel free to share this with anyone who is lost when it comes to mowing their new sod grass.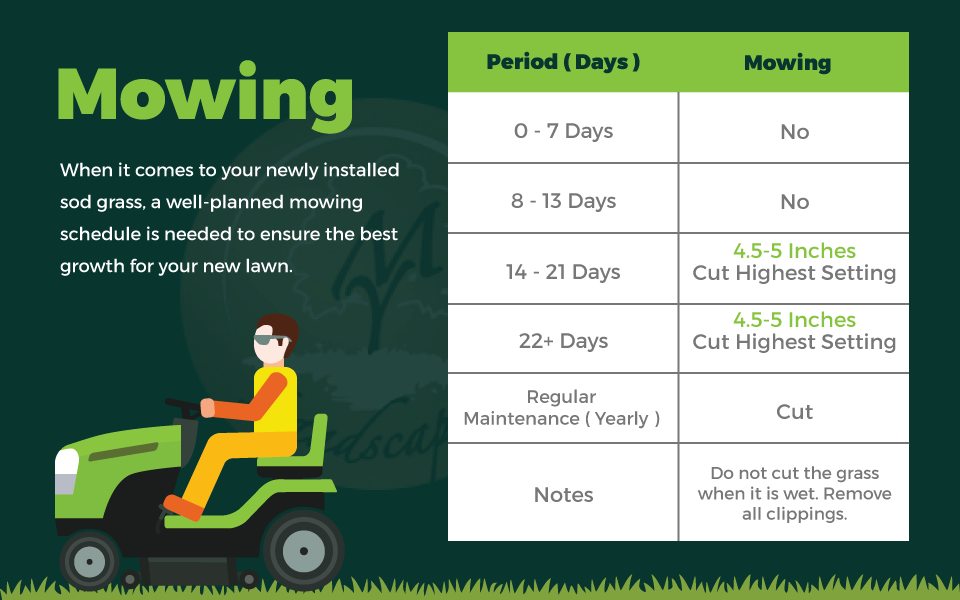 Recommended Reading: How Often Should You Mow Your Lawn?
Fertilize & Topdressing Your New Sod Grass
Fertilizer is important to keep your brand new lawn looking healthy and lush all season long. In the early stages of your sod, we don't recommend any fertilizing / Topdressing until Day 30! This ensures that your sod has enough time to lock in roots and increase its strength.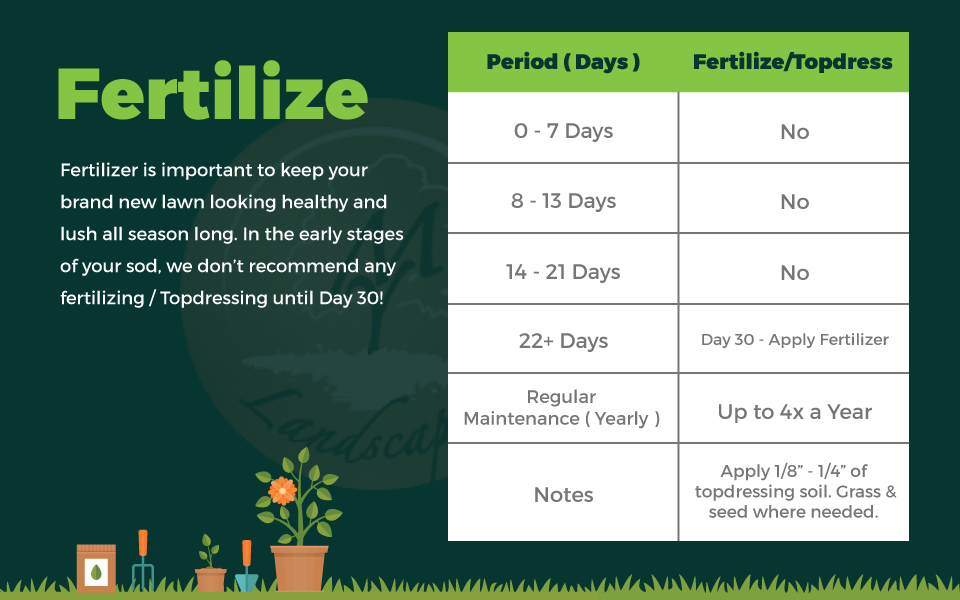 Recommended Reading: 6 Tips For New Sod Care, check it out!
Handling & Preventing Pesky Weeds in Your New Sod Grass
Weeds can be super difficult to fight off once they've begun to spread. There are many products that are out their that claim to kill off weeds for good, but the truth is, these companies have been looking for a solution for almost a decade now. The harsh reality is, you need to use some manual labor to get rid of these pesky weeds. Weeds can damage your lawn and make it look unhealthy.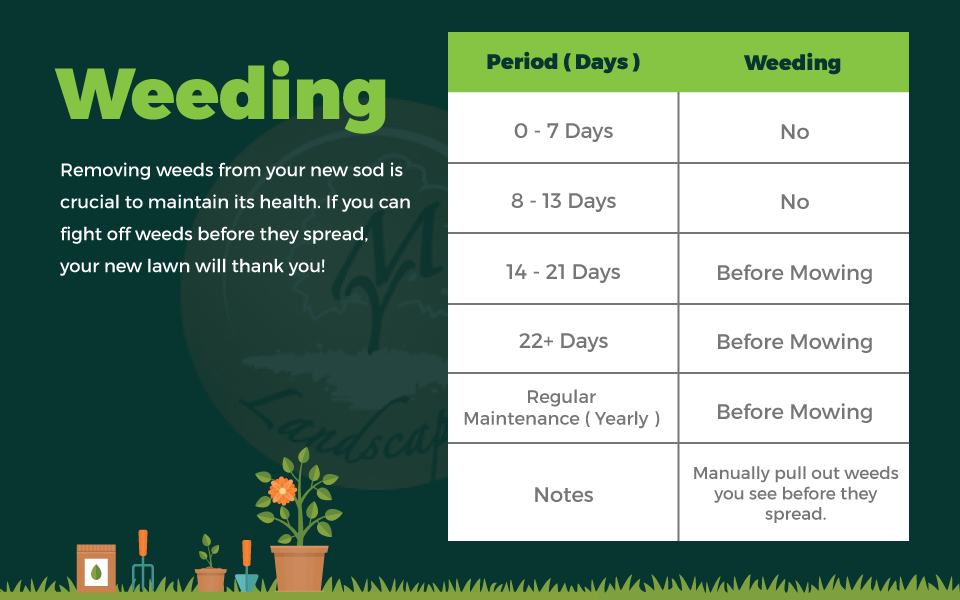 Recommended Reading: How to Control Weed Growth in Your Lawn and flower beds
Nematodes & How They Should Be Used For Your New Sod
Nematodes are a great way to help your sodding thrive. They are small, round and long worms that help protect your new sod. Understanding the benefits of using nematodes throughout your new sodding installation will be explored in an upcoming post. Stay tuned and make sure to subscribe to our newsletter.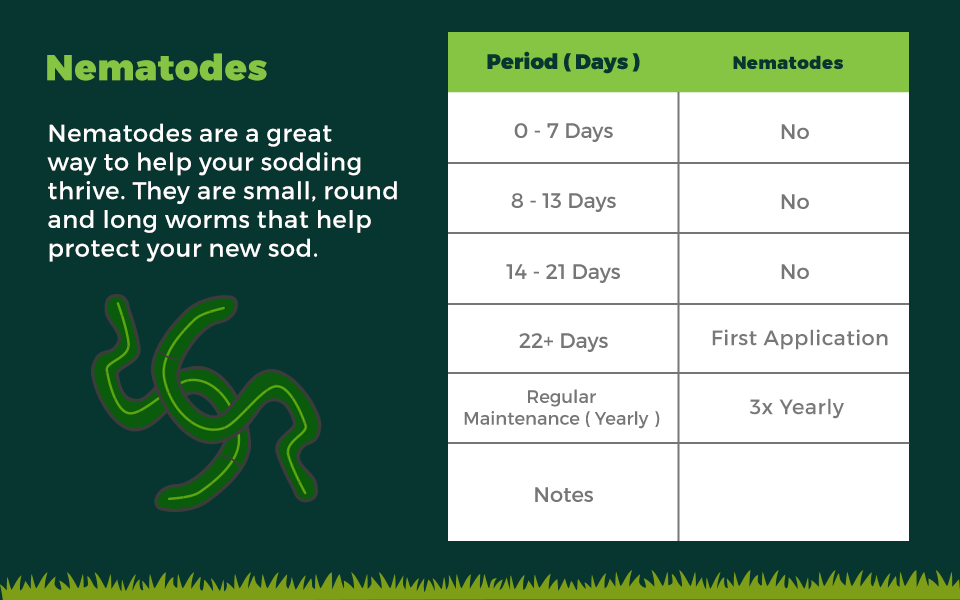 Other Recommendations for Taking Care Of Your New Sod Grass
For the first 2 weeks ( 14 days ) we recommend that you avoid walking on your new sod grass. Keep pets & children away from running around on your new lawn installation. This helps it grow uninterrupted and allows it to strengthen its roots within the soil. The experts at My Landscapers also recommend that you aerate your new lawn 1 – 2 times per year. Dethatching at the end of the April/May season will also help it grow healthier.
Recommended Reading: The Perfect Guide To Maintaining Your New Sod Grass
Professional Sodding, Sod Installation & Sod Maintenance in Toronto
At My Landscapers, we have over 15 years of experience laying new sod grass across Toronto, Markham, Richmond Hill, Vaughan & Stouffville. Our experts are here to answer any questions you may have and guide you through the entire process. Bring your lawn back to life with professional care and expertise. We provide FREE, no-obligation, detailed estimates for any sodding, lawn care or commercial landscaping project.
Customer Testimonials
Read some of our customer testimonials on:
Read why we're the number one recommended landscaping, lawn care & sod installation company across Toronto!