No matter how careful you are, weed growth in your lawn and flower beds is inevitable. However, if you don't remove them from the soil, they will take over your entire lawn and ruin your investment before you know it.
Weed plants can grow again if you aren't careful. Let's take a look at the factors that make it easier for weed plants to make their way to your lawn:
You didn't remove their roots from the soil
There's a lot of empty space in your lawn
The soil isn't properly drained
You ignore watering requirements of your lawn
Much is not applied to your flower beds (empty space)
Here's how you can effectively eliminate them from your beautiful lawn and control their growth down the line: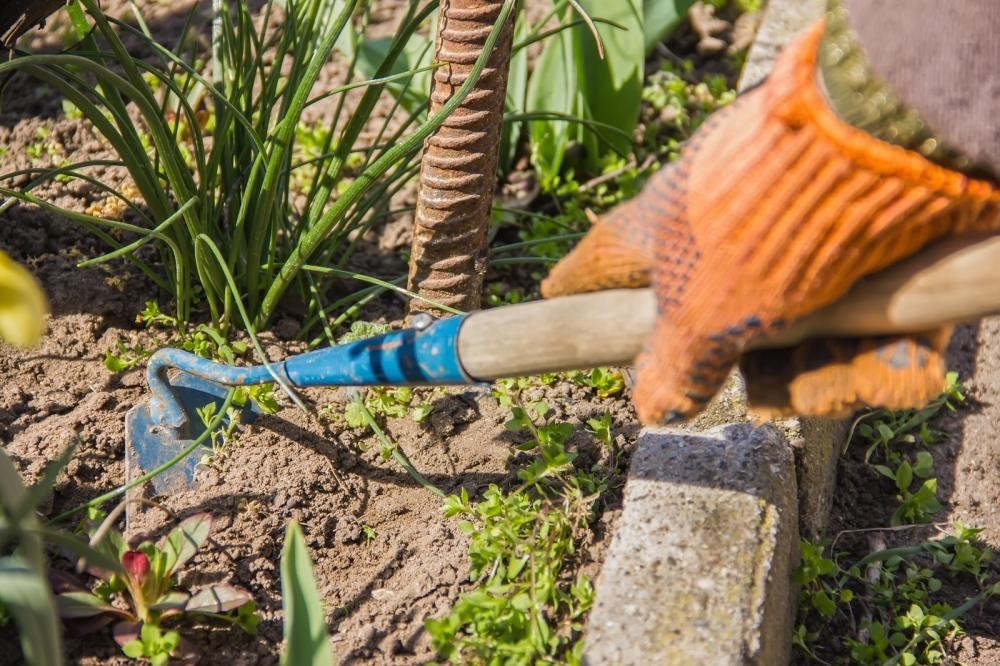 Removing Weeds
You can pull weed plants with your hands, but it's best to use a gardening tool to save time and efforts. But make sure you wear gloves to protect your hands from insects.
You can use a garden hoe or a winged weeder to eliminate weeds. Carefully remove the roots of the unwanted plants so that they don't leave behind their seeds. Once you're done with the task, clean the tool thoroughly before keeping them back in your garage.
Prevent Weed Growth
With the help of the following tips, you can effectively control the growth of weeds in your lawn:
·        Don't Disturb the Soil
Weed seeds are present in the soil. If you don't disturb them, they may stay dormant for long. Instead of planting grass seeds directly in the soil, you should consider adding a few inches thick layer of compost. Not only will this practice boost plant growth but also prevent weed from growing.
You can also opt for sodding rather than growing grass from seeds for effective weed control.
·        Use Store-Bought Products
Store-bought weed control products can also help you get rid of weeds from your lawn. You should prefer organic products over chemicals to protect yourself and the environment from chemical hazards. You can also prepare organic weed control solutions on your own.
Diluted vinegar is an effective solution for dealing with weed problem.
·        Raise Your Mower Height
Weed plants need plenty of sunlight to grow. You can prevent their growth in the first place by limiting exposure to sunlight.
For this purpose, mow your lawn grass at a height of 3 inches. The taller grass blades will block sunlight for weeds and will slowly kill them off. It's an effective way to prevent weed growth with minimal efforts.
·        Water Deeply
Instead of watering your lawn every now and then, water it deeply and infrequently. This will help the grass grow deep and strong roots so that it can better compete with weeds and prevent their growth. Not only will it crowd out weeds, but also enable the grass to withstand drought.
Flower Beds Weed Control with Mulch
One of the best ways to control weed growth in your flower beds is by using mulch. Just make sure that when you apply mulch, remove the existing weeds and then apply a nice thick layer that will. The good thing is that mulch comes in various colours; red, black, cedar, brown a natural wood colour. When applied, you will not only prevent weed from growing all over your flower beds, you also create a nice contrast colour that will make your property stand out. On top of that, your pants will thrive thanks to the moist environment that the mulch creates.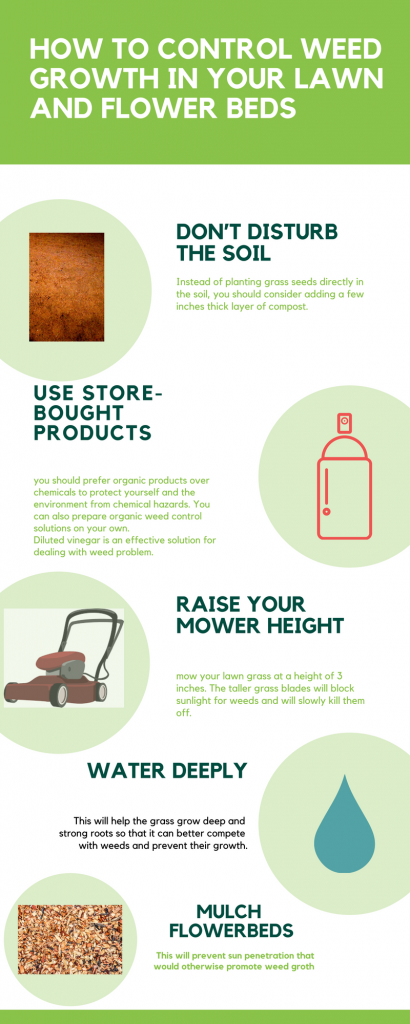 Conclusion
Removing weeds may seem a daunting task, but it can help you protect your lawn from this nuisance. You should remove weeds as soon as you notice them growing in your lawn and take the abovementioned preventive measure to prevent their growth down the road.
If you're looking for professional landscaping services in Toronto or lawn care services, speak to a My Landscapers professional. Our customers are always satisfied! Don't believe us? Read some of our customer testimonials we have received over the last few months. We provide a FREE, detailed, no-obligation estimate for all of our services. Request your FREE lawn care estimate today.
For more useful tips and information you should check out the Top 100 Landscaping Blogs by Feedspot.