Sod Installation is a great way to get a well-maintained green lawn within a brief time. It saves you from the hassles of growing grass with seeds. However, when installing sod, some people end up making mistakes that cost them their valuable garden.
Whether you intend to carry out the job on your own or want to hire professionals for this purpose, you should avoid making the following mistakes:
1.     Not Preparing the Soil
Before you order turf for your lawn, make sure you prepare the soil. Adjust its pH level and add organic compost and fertilizers to support its growth.
However, if you don't prepare the soil and leave debris in your lawn, you can't expect to get a green lawn. The grass will die quickly due to the lack of oxygen and your investment will go to waste.
2.     Delaying Sod Installation
When sod is delivered to your home, make sure you install it the very same day. Ask a local nursery to deliver turf in the morning or by early afternoon. This will give you enough time to perform the task.
When you leave sod in the open for some time, its temperature increases that may prove fatal for grass.
3.     Buying Low-Quality Sod
It may seem an attractive option to buy cheap sod to save costs, but it'll cost you more in the long run. If it's infested with weeds, you'll have to spend hours in the garden every day to get rid of weed plants.
High-quality sod, on the other hand, is easier to maintain. It'll give your lawn a new look without much effort.
4.     Laying Sod over the Existing Turf
Some DIY workers apply sod over the existing turf to save time. However, it's a costly mistake that negatively affects the look of your lawn. Overlapping sod or laying it over existing turf creates an uneven lawn.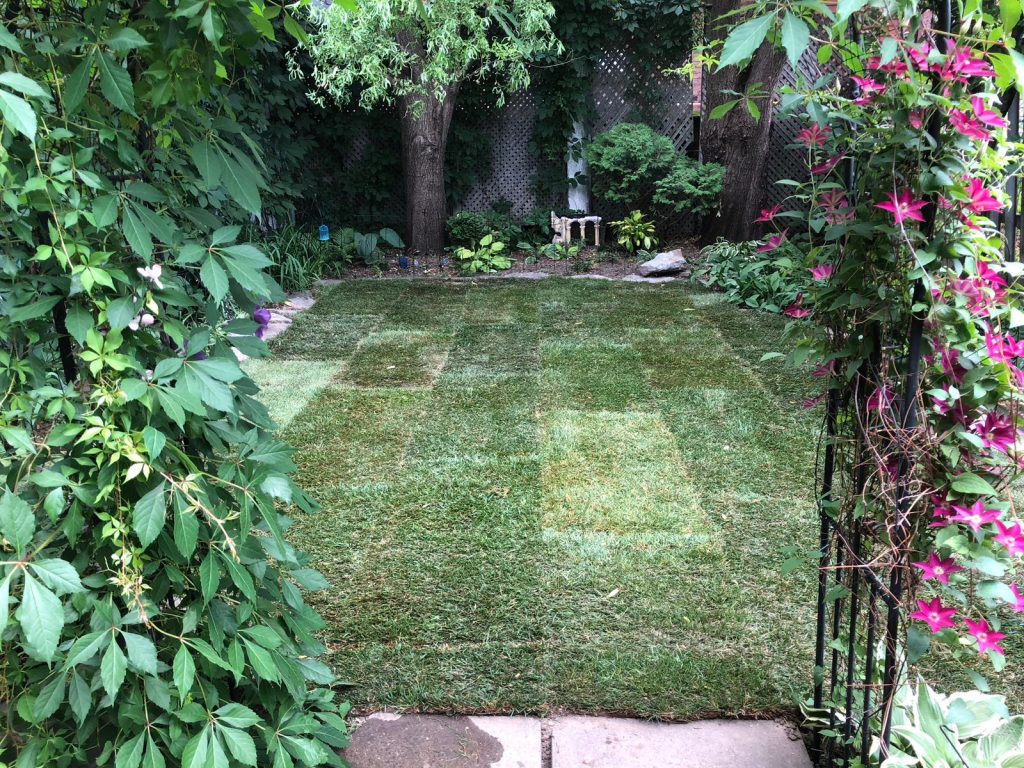 5.     Failing to Give Sod Time to Establish Itself
Sod or turf needs at least four to five weeks to hold ground after installation. Keep your pets away from the lawn if you want to avoid problems. Although it's important to pat the sod down so that it grows roots deep enough, but a series of depressions may appear if you use the lawn heavily within the first month of sodding.
6.     Ignoring Watering Requirements
When the sod is freshly installed, it needs plenty of water to stay fresh. However, many people make the mistake of ignoring watering requirements. They forget to water the grass frequently which affects the growth of its roots.
7.     Failing to Check Up on Sod's Progress
Even if the sod is properly installed and you water it regularly, you should carefully check its progress from time to time. If you ignore dry patches, the grass will die in a matter of days.
A well-maintained lawn enhances the aesthetic appeal of your property and adds to its market value. The best way to get a lush, green lawn is to hire professional services to install sod and maintain your lawn.
If you want to get it done right, speak to a My Landscapers Professional Landscaping & Sod Installation Expert
My Landscapers has been installing sod grass and replacing lawns for over 14 years throughout Toronto, Markham, Vaughan & Richmond Hill. Our professionals only use organic fertilizers and solutions to help your lawn looks lush, healthy & green. Request your FREE, no-obligation, detailed estimate today and one of our landscaping experts will contact you. Prefer to speak over the phone? Give us a call or use our NEW live chat feature to connect directly with one of our experts.