Commercial landscaping maintenance is one of the biggest deciding factors when it comes to income properties. Think about it, when a potential tenant is choosing between options, the very first thing they're presented with is the exterior of the property. Having an effective commercial landscaping maintenance plan will allow you to attract better tenants in the long run. In this post, we'll explore some helpful tips to keep your landscaping maintenance to a minimum, as well as, how to create a beautiful landscape that your tenants will be proud to call home.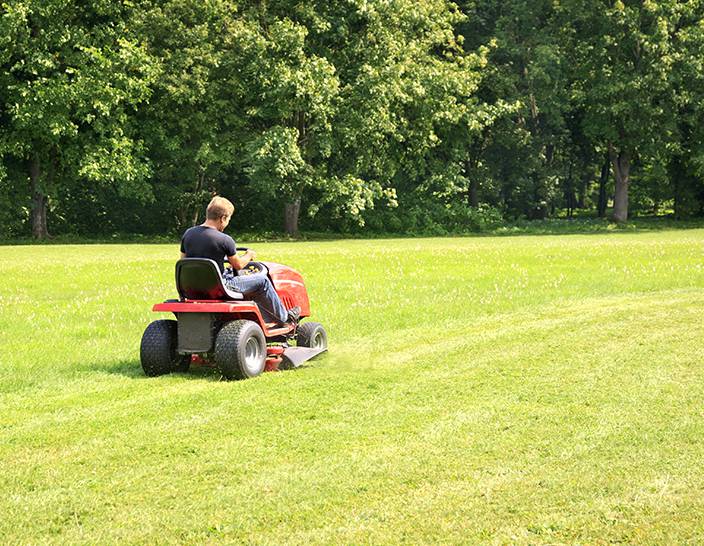 1. Less Lawn, More Hardscaping
When you're looking to reduce the amount of lawn care maintenance needed for your property, most people are recommended to reduce the size of the lawn and increase hardscaping. Hardscaping is defined as man-made features in landscaping such as paths & walkways. Consider reducing the size of your lawn and replacing it with beautiful interlocking stone to contrast your vegetation.
2. Walkways & Sidewalk Maintenance
This should be in a property manager's landscaping maintenance routine always. Ensure that your pathways are clear of any debris or broken tree branches. In the winter time, sidewalks & walkways should always be salted and cleared of any ice or snow. The last thing your commercial property needs is an injured pedestrian which can result in litigation and cost your management company quite the penny. Hiring a professional commercial landscaping maintenance company will ensure that your sidewalks are always properly maintained both in the winter & warmer seasons.
3. Tree & Shrub Maintenance
Trees and shrubs are a valuable asset to any commercial property and can bring shade, beauty and value. A proper plan to maintain trees should include a process of trimming, mulching, pruning & fertilizing to keep your trees looking their healthiest. Consult a commercial landscaping maintenance professional to clue you in on what type of plan your property's trees require. Shrubs require trimming and pruning in order for them to not obstruct any walkways/paths. Remember to remove any unhealthy trees using a tree-removal service and consider planting new ones.
4. Perennials & Flowers
For property landlords, one of the biggest challenges is adding colour to your landscaping. Most will turn to common flowers to spruce up the property, but who wants to dig & plant flowers every spring. Luckily enough, perennials require little to no maintenance and can take care of themselves after planting. Other than the steady watering needed in the beginning after planting, most perennials require little to no attention after that. Perennials are also very cost effective and easiest to plant. Consider adding large beds of perennials to your property to increase the colour.
5. Professional Landscaping Maintenance to Attract Better Tenants
Hiring a professional, commercial landscaping maintenance company can bring huge benefit to your income property. A Professional service can customize their maintenance plans to fit your needs. They will be able to identify any existing problems in your landscaping or lawn, as well as, recommend solutions which can reduce the amount of work that goes into property maintenance. Landscaping experts can help with irrigation systems, tree removal, creating beautiful landscaping for your tenants to enjoy, as well as, winter maintenance / snow removal.
Hiring a Professional Commercial Landscaping Maintenance Company
Here at My Landscapers, we have a team of commercial property maintenance experts that can help make your commercial property look spectacular. With the real estate market rising in areas such as Toronto & Vaughan, it is wise for property managers to consider hiring a professional landscaping company to do the job. Contact My Landscapers today for a free, no-obligation, detailed estimate on your commercial landscaping maintenance needs. Our staff have over 15 years of experience in commercial property landscaping and snow removal. Remember, We're always there for all of your outdoor needs.
Recommended Reading: