A lot of people believe that the best time for sod installation is in the spring, especially in cities like Toronto, Markham, and Vaughan. This is actually true because spring is when the plants grow rapidly and mowing it once a week won't be enough. However, this doesn't mean you can't have your contractors installing sod at any season you want, as each season has its own challenges regarding lawn care.
Importance Of Sod Installation For Your Property
As the season begins to change, now is the time to start thinking about how to maintain the changing landscape of your commercial or residential property. So when it comes to establishing your lawn, sodding is the easiest and fastest way to do that. However, if you are still thinking contrarily or you still don't know how sodding can help you, below are the benefits of installing sod in your residential or commercial property.
less work and reduced stress
A sodded yard doesn't need much work or maintenance like a seeded yard that requires consistent maintenance for it to reach maturity. A sod is always matured when it is installed, so it only needs to be watered, mowed, and fertilized when needed. When these are done, the installed sod will remain a healthy grass carpet.
Good investment
After hours of sod installation, your yard transforms from bare sand to a beautiful and flourishing green. It is not expensive to maintain and doesn't incur any future establishment cost. So your sod will remain healthy and green, the value of your property will increase, and you just made your property more beautiful.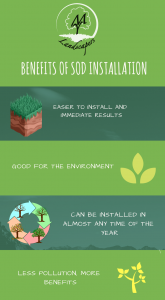 Good for the environment
Sod helps in cooling the atmosphere by reflecting the heat from the sun, and also absorbing all harmful pollutants in the air. By doing this, fresh air will be released into the environment and you'll breathe in good air. In the heat of summer, a sodded lawn will be cooler than a rock and fifteen degrees cooler than bare soil, because it absorbs carbon dioxide and releases oxygen to cool the air.
It can be used anywhere and anytime
Sod Installation can be done where seeding cannot be done. Sodding is sometimes used to stop erosion and sod installation can be done all year round in any season as long as it is not snowing.
soil protection
Sod is a well-established mat of grass, so it keeps the soil in place and covers it totally. Unlike seeding that leaves the soil susceptible to wind, sod installation protects the soil from erosion and wind. Sods can also be installed on slopes for stabilization, and the soil it covers means less dirt will be carried into the home when walking over the lawn.
Final Thoughts
If there is a need for sod installation in your commercial or residential property then do so. All that is needed is a good sod installation company that can handle the job perfectly and also provide a high-quality sodding service.
My Landscapers has been installing sod grass and replacing lawns for over 14 years throughout Toronto, Markham, Vaughan & Richmond Hill. Our professionals only use organic fertilizers and solutions to help your lawn look lush, healthy & green. Request your FREE, no-obligation, detailed estimate today and one of our landscaping experts will contact you. Prefer to speak over the phone? Give us a call or use our NEW live chat feature to connect directly with one of our experts.