Not everyone has time to take care of grass, water it, and get rid of weed plants on their own. Don't worry about it as you can hire professional commercial/residential lawn care services to maintain your lawn.
A well-maintained lawn can enhance the aesthetic appeal of your house. You can enjoy peaceful time to get refreshed and can arrange small family picnics.
When you start looking for commercial/residential lawn care professionals, you may find many companies operating nearby. The quality of services offered by these companies may vary. Here are a few questions you should ask them to make the right choice:
Do You Use Chemical Products?
As the awareness about hazards of chemical products spreads, many people are turning to organic solutions. The same goes for lawn care. Instead of using chemical fertilizers and pesticides, you can use organic products to increase the yield and deal with pest infestation without affecting the environment.
Before you hire professional lawn care services, make sure you ask them whether they use chemical products or go for alternative organic solutions.
How Often Do You Sharpen Mower Blades?
Don't forget to ask the lawn care companies about the maintenance of equipment. Regularly mowing grass keeps your lawn in good shape and assist in the growth of lush, green grass. However, if the professionals use mowers with dull blades, the grass will turn brown in no time.
So, ask them how often they sharpen its blades. Reputable lawn care companies sharpen or change the blades of mower every 1-2 days or after 10-12 mowing hours.
You may want to acquire the services of a professional lawn care company to take care of your entire lawn or perform a few tasks only, such as mowing or eliminating weeds. You should ask them about the lawn care costs.
Some commercial lawn care services offer discounts on yearly contracts. However, inquire them about any hidden costs before signing the contract.
What are the Accepted Payment Methods?
Professional  lawn care services accept varying payment methods and you should discuss it beforehand. They may accept bank checks or facilitate you to make payment with your credit card. Nowadays, many companies also allow the customers to pay for the services via online payment systems such as PayPal.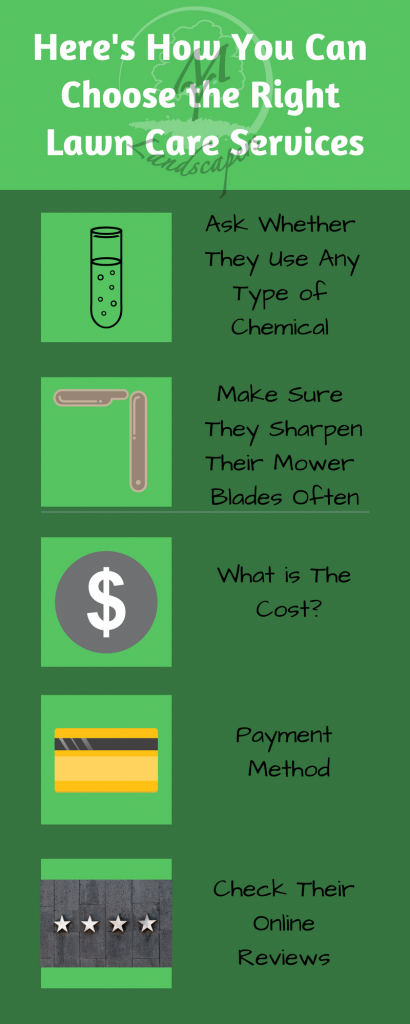 How Good is Your Customer Care Service?
Don't overlook the quality of customer care service when choosing a lawn care company. You can look for online customer reviews on the website of the company or their social media pages. If they have received a myriad of positive feedbacks, it's likely that they will be able to meet your needs.
Ask them whether they will inform you before visiting the site for regular maintenance work. Also, discuss with them whether they offer emergency services if a problem arise.
Professional commercial/residential lawn care services can help you maintain your lawn. However, it's a must to consider the aforementioned factors to ensure that you hire a company that offers quality service.
Final Thoughts
At My Landscapers, we provide professional commercial/residential lawn care services in Toronto, Markham, Vaughan, Newmarket & Mississauga areas. To learn more or to request your FREE estimate, give us a call today.