doesn't like a lush, green lawn outside their house? But it's quite a task to grow grass from seeds. You can rather install sod to get a healthy and green lawn with minimal efforts.
However, be careful when installing turf, or else your efforts may go in vain. The following tips will make the task easier for you and assist you in sodding in an efficient way:
1.     Soil Test
Check the composition of the soil before sodding. Well-drained, fertile soil supports the growth of grass. However, if it contains tightly packed clay, grass may die due to the lack of oxygen.
You can carry out a soil test on your own or take the soil sample to a local nursery for expert advice. Dig a hole in the yard and fill it with water. If it drains quickly, it's sandy soil. But if it drains slowly, the soil is clay-packed and you need to add compost to make it fertile.
Moreover, you should also test pH level of the soil. You can send soil samples to the nearest soil testing lab for this purpose. If it's too acidic or too alkaline, you can amend it with lime and gypsum respectively.
2.     Clean the Yard
Now that you've prepared the soil for sodding, you should clean your lawn. Get rid of weeds before starting the project. Use a rake to clear debris from the space. Also, if there's any construction material in the yard, make sure you remove it before installing turf.
If there are uneven patches or holes in the yard, it may not be easy for you to install sod. Use a shovel to level the space effectively.
3.     Spread Compost and Fertilizers
Spread a 2-inch thick layer of organic compost or topsoil. It'll help the soil retain moisture and nutrients. Use a tiller to mix compost with the soil. It's also recommended to spread high-quality fertilizer which is rich in phosphate.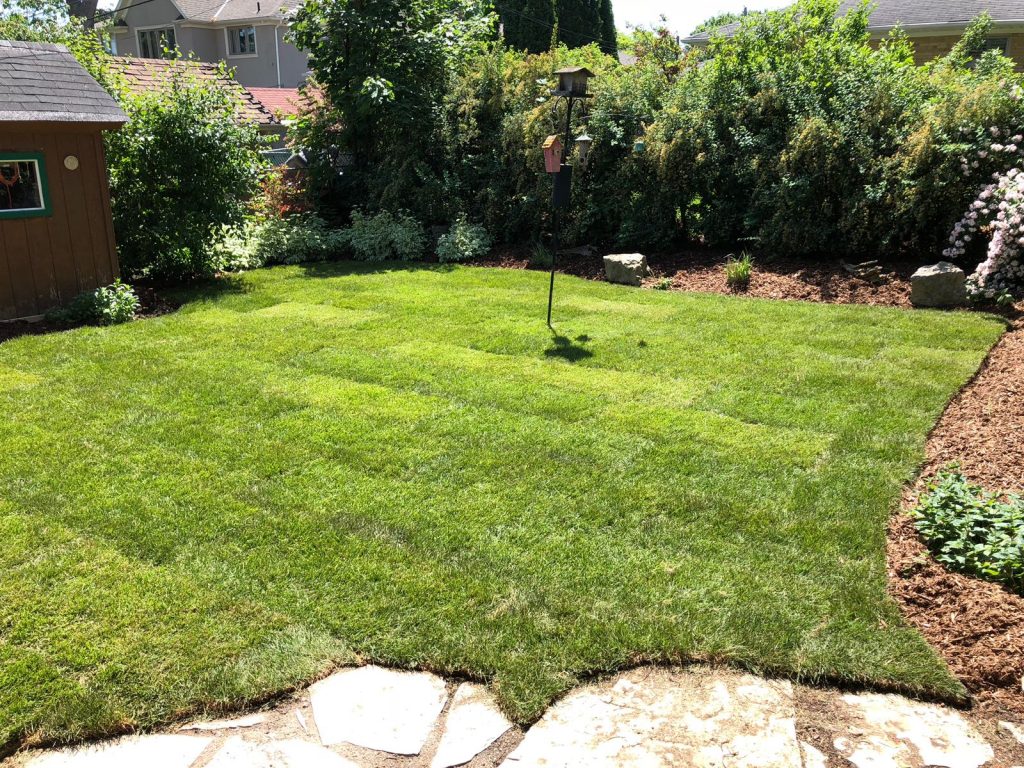 4.     Lay Sod in Your Yard
Your garden is now ready for sodding. When sod is delivered to your house, make sure you install it the very same day. Delaying it will only affect the quality of turf.
Lightly water the garden soil and then lay turf along the length of your yard. Start from one end of your garden and then move to the other end. Make sure it's aligned with the edge of the yard with no patch of dirt exposed. Use a box cutter to cut shorter pieces of sod to fill up any gaps.
5.     Maintenance of Lawn
Now that you're done with sodding, take good care of your lawn to keep it in good shape. During the initial 2 weeks, you need to water grass thoroughly so that roots can hold ground. After that, you need not water your garden more than two to three times a week.
If there is a need for sod installation in your commercial or residential property then do so. All that is needed is a good sod installation company that can handle the job perfectly and also provide a high-quality sodding service.
My Landscapers has been installing sod grass and replacing lawns for over 14 years throughout Toronto, Markham, Vaughan & Richmond Hill. Our professionals only use organic fertilizers and solutions to help your lawn looks lush, healthy & green. Request your FREE, no-obligation, detailed estimate today and one of our landscaping experts will contact you. Prefer to speak over the phone? Give us a call or use our NEW live chat feature to connect directly with one of our experts.